Funny to many but not necessarily to the woman who experienced it, here is another monkey story from the Sacred Monkey Forest Sanctuary in Ubud, Bali. A woman traveler was caught off guard as her trip to the forest turned weird when an over-friendly monkey approached her. The Ubud forest sanctuary is popular for its three monkey temples and the hundreds of Balinese long-tailed monkeys that live around them, inside the sanctuary. The monkeys are comfortable with human presence and have been known to confidently approach them for food handouts, water, and more.
However, for 38-year-old Jill Porter, there was more in store than what she had been expecting from the visit. An administration officer back at Castlerock in Northern Ireland, Jill had gone vacationing to Bali in November last year. She was exploring the sanctuary with her friends when the unfortunate incident happened. She was in fact taken by surprise when a curious monkey approached her. But as it hopped onto her lap, she admittedly quite scared.
The monkey, however, went on to tug at the zipper on her shorts and soon was poking its head right into her top. It seemed to be looking for something to eat and finding nothing of interest it started to tug at Jill's hair. Jill acknowledged being warned to remain calm if any of the animals approached her. However, she was shocked by the sudden interaction even though she did not show any alarming reactions. Finding nothing on her, the monkey soon got distracted and ran away from the group.
Several onlookers took the video of the incident, including Jill's friends. When the video was posted on Tik Tok by Jill, it instantly became very popular, garnering over 170,000 views since. This has certainly not been the first such incident that has taken place in the forest sanctuary and is certainly not the last to be reported either. Officials at the sanctuary suggest some measures to the visitors, which may help avoid such incidents, even though they are aware that the monkeys have become very daring over the years. The sanctuary rules clearly convey what is doable and what is not.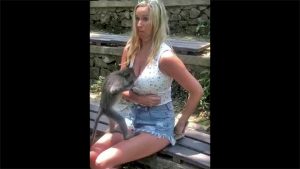 Visitors are strictly advised not to bring any cans or bottles into the forest area. It tempts the monkeys, who attack looking for water and juice. Several visitors buy bananas at the entrance so that they can feed the monkeys inside. Well, you may love them, but they are still wild monkeys. No matter how fun you may find it to be able to feed the cute animals, it can still get dangerous. Food makes monkeys act aggressively, especially when there is even one of them left out. Travelers are often asked to avoid taking their backpacks, purses, bags, etc.
inside the forests. These attract monkeys who think there may be some food items of interest inside the bags. There have been incidents where monkeys have searched the pockets of visitors for candies, mint, fruit, and nuts. These animals have a strong sense of smell that allows them to locate the food from even inside the pockets. Many people want to experience a monkey climbing on them.
At first, they attract the animal with food or any other offering but soon many can't handle if things get ugly. It is, therefore, best to go empty-handed into such sanctuaries and walk around in a calm and composed demeanor. Do not try to attract the attention of animals with any food or unnecessary interaction. If a monkey climbs on you stay calm and never try to scream or run as it may worsen the situation.