A number of kickboxers have transitioned into MMA and made a successful career in cage fighting. Whether it's Bas Rutten, Maurice Smith or more recently Gokhan Saki, the dominant fighting abilities of kickboxers in the cage have often proved successful. The sport of kickboxing was at its peak in the late 1990s but since then it has been on the decline in popularity as the sport failed to produce new entertaining fighters that could provide quality fights to the fans. Politics also played a major part in bringing down the popularity of kickboxing.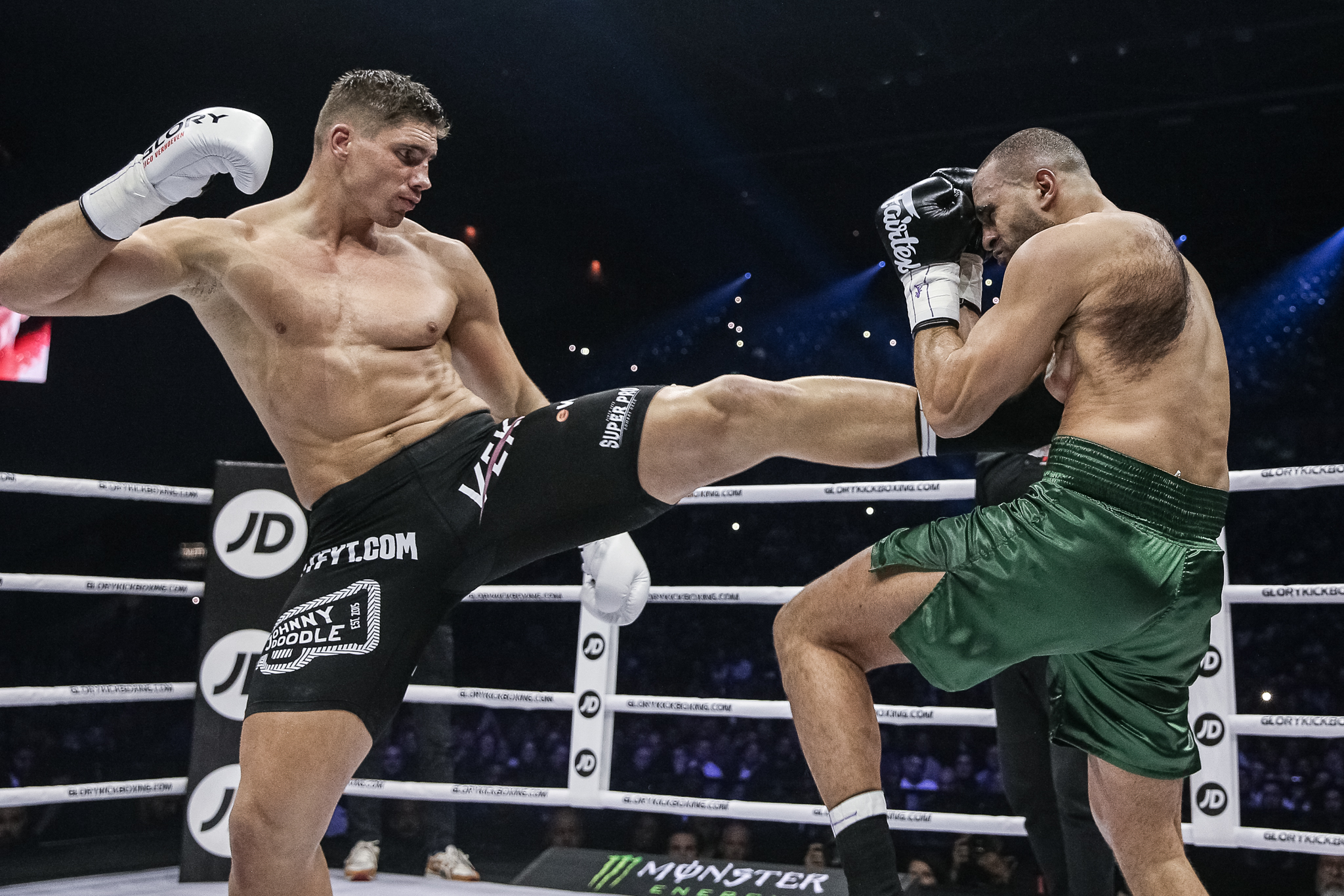 Another reason for the decrease in the popularity of kickboxing is the sport of MMA. MMA grew in popularity as the main combat sport, providing an entertaining alternative to boxing. In the early days of MMA, a lot of kickboxers transitioned to the cage fighting sport as it promised more popularity and paychecks. Much as in MMA's early days, high-level kickboxers still continue to make the move to the cage. Former runner-up of the Glory Light Heavyweight Tournament, Tyrone Sponge made a quick journey into MMA but did not hang around for long.
The main difference between MMA and kickboxing is grappling. You're not allowed to hold your opponent in kickboxing whereas in MMA the whole game depends on grappling your opponent and making them submit. Some fighter who throw sloppy punches and kicks still do well in MMA because they have honed their grappling skills and they know how to take their opponent to the ground and make them submit. To be effective as a kickboxer in MMA they need to improve their overall skills and capabilities. That means dedicating a significant amount of time to master grappling skills as the sport of MMA depends half on kicking and punching and a half on grappling.
The latest kickboxer to make the move is indeed the highest-profile in a long time. Rico Verhoeven comes from a broad list of popular kickboxers from the Netherlands. Verhoeven made his transition to MMA while he was the reigning Glory Heavyweight Champion, one of the biggest Kickboxing accomplishments. Verhoeven gave an aggressive start to his debut, attacking with his obviously superior kicking game. He knew his punching and kicking game was far more superior to his opponent so he dominated the start of the round using this to his edge. 
He was pressured by his opponent Viktor Bogutzki but Verhoeven never appeared to be in trouble. The Russian fighter tried to take the fight home but Verhoeven had clear intentions and he came only to win.  Bogutzki sought to leverage the lack of grappling experience of the Dutchman but was unsuccessful. Verhoeven first dominated him by kicking and punching and then later by grappling and throwing him to the ground and by staying on top of him. 
Verhoeven was able to land a trip takedown and take his opponent to the ground where he stayed on top of him. Verhoeven has proven that he is no pushover in the department of grappling by making his way into full mount and holding position. 
Once his opponent was down, Verhoeven unleashed a flurry of punches on his opponent, to which the Russian had no answer. Referee Herb Dean had to step in and stop the fight to save the Russian from further damage as the Verhoeven was nowhere near to stopping.  Verhoeven was awarded a first-round TKO, in his MMA debut fight. After the fight, the kickboxing champion said that this is the start of new things and he will definitely appear again in the cage to fight.