TaekwondoTaekwondo black belt, Yair Rodriguez, will throw down opposite former Featherweight champ, Max Holloway, this Saturday (Nov. 13, 2021) at UFC Vegas 42 inside UFC Apex in Las Vegas, Nevada.
It's been just over two years since we last saw Rodriguez in the Octagon, back when he scored a "Fight of the Night" victory over Jeremy Stephens. That's essentially a microcosm of the "Pantera" problem: he'll do something spectacular then immediately disappear.
It's not easy to build momentum without an active schedule, but technically, Rodriguez is unbeaten in his last three bouts and is ranked as the third best contender at 145 pounds.
One way or another, he finds himself in a title eliminator here — anyone who defeats Holloway deserves a shot at Featherweight gold. That's a tall ask, but let's take a closer look at his skill set: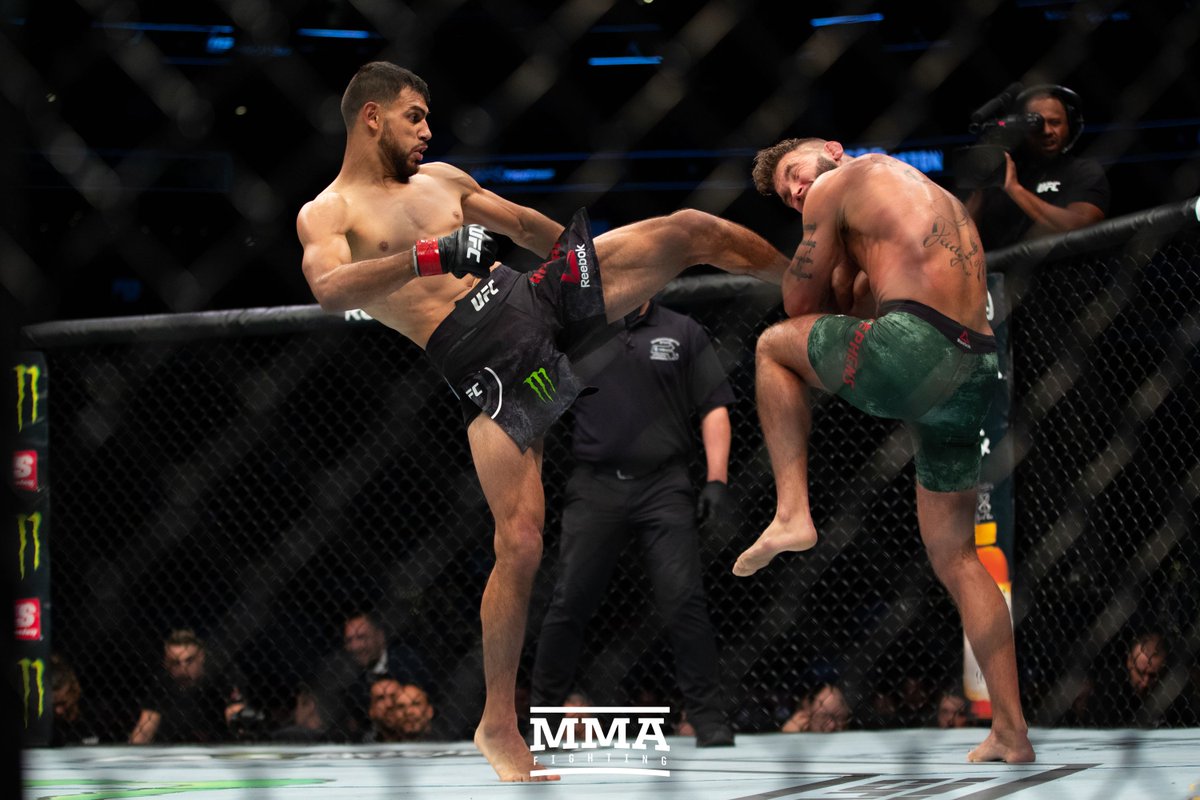 Rodriguez is one of the more unique strikers in the sport. He's extremely quick and has a great variety to his kicking game, which allows Rodriguez to really confuse his opponents and keep them uncomfortable at distance.
To make full use of his range game, Rodriguez maintains lots of distance between himself and his opponent. Rodriguez stays light on his feet and switches stances often, bouncing away from his opponent and feinting very actively.
While he's fresh, Rodriguez does a nice job of avoiding being trapped along the fence, switching directions quickly when his opponent tries to cut him off. However, he also spins so wildly that he can accidentally run himself into the cage.
To start, Rodriguez attacks with lots of hard low kicks. The fact that he doesn't hide them with punches is sometimes an issue, but Rodriguez minimizes that problem by using feints and angles to set them up. In addition, he will step deep into the kick, knocking his opponent out of stance and making the counter difficult.
The low kick makes stepping toward Rodriguez difficult, as does his front kick. Often, Rodriguez will pair them together, sticking his opponent with a long stomach stab then trying to kick out the calf as his foe tries to step back into range. To complicate the issue further, Rodriguez will then start adding punches to the mix as he recovers his balance off the kick.
Stepping toward Rodriguez can feel akin to stepping into a hurricane of fast, seemingly random strikes.
Most of Rodriguez's kicks help him maintain distance in some way, which allows him to keep his opponent on the defensive under a hail of unpredictable kicks. Some of these kicks, like his spinning back kick, undoubtedly come from his Taekwondo background.
However, he has also added straight kicks to that knee that are common of many Jackson-Winkeljohn fighters, and he's been quite effective with them. Against an opponent pushing forward carelessly, a kick straight to the knee will immediately disrupt offense.
Opposite Jeremy Stephens, it was the classic left kick from the Southpaw stance that really did a ton of damage (GIF). Slamming home a shin into the liver is a simple enough concept, but one thing that really stood out to me when rewatching that rematch was Rodriguez's general gameness. Prior to the body kick that dropped Stephens, Rodriguez slammed several full power kicks directly into Stephens' elbows.
RodriguezRodriguez is one of the most athletic, talented men on the Featherweight roster. General fan confidence may be low because, well, it's Max Holloway and because of Rodriguez's inconsistency in making it to the cage, but it would be silly to write off the 29-year-old Mexican.
Trading blows 👊

[ #UFCVegas42 | Main Card Live NOW on @ESPNPlus ] pic.twitter.com/wTsjOr0dJe

— UFC (@ufc) November 13, 2021
We've got fireworks 🎆

[ #UFCVegas42 | Main Card Live NOW on @ESPNPlus ] pic.twitter.com/lRC0qj1HW2

— UFC (@ufc) November 13, 2021
These two refuse to back down 💥

[ #UFCVegas42 | Main Card Live NOW on @ESPNPlus ] pic.twitter.com/HHx0QvtQMs

— UFC (@ufc) November 13, 2021
Yair is hunting for his signature up elbow 👀

[ #UFCVegas42 | Main Card Live NOW on @ESPNPlus ] pic.twitter.com/QzqxGWXn1f

— UFC (@ufc) November 13, 2021
Air Holloway is cleared for takeoff ✈️

[ #UFCVegas42 | Main Card Live NOW on @ESPNPlus ] pic.twitter.com/PXcLrEIooB

— UFC (@ufc) November 13, 2021
Yair got up FIRING 💥

[ #UFCVegas42 | Main Card Live NOW on @ESPNPlus ] pic.twitter.com/vPmNddaRia

— UFC (@ufc) November 13, 2021
More punches in bunches to start the 4th 👊

[ #UFCVegas42 | Main Card Live NOW on @ESPNPlus ] pic.twitter.com/UhkR6JR89W

— UFC (@ufc) November 13, 2021
Yair takes flight in the fourth ✈️

[ #UFCVegas42 | Main Card Live NOW on @ESPNPlus ] pic.twitter.com/WQjwSyAPIx

— UFC (@ufc) November 13, 2021
Absolute warriors 🤜🤛

[ #UFCVegas42 | Main Card Live NOW on @ESPNPlus ] pic.twitter.com/gS9MZwr63e

— UFC (@ufc) November 13, 2021
Leaving it all on the line 💥

[ #UFCVegas42 | Main Card Live NOW on @ESPNPlus ] pic.twitter.com/sP1CvuphtX

— UFC (@ufc) November 13, 2021