Mike Tyson was recently praised and deeply appreciated by Joe Delguyd who is the Old School Boxing Club trainer. Joe appreciated Tyson for his mindset and the mentality in the ring walk. He also said that Tyson was focused and concerned to fight, rather than focusing on his ring walk.
I'll never forget Mike Tyson's intimidating ring walk music when he fought a terrified Michael Spinks.
Contrast that to Tyson Fury coming to the ring to the intimidating sounds of Patsy Cline!!…Only Fury could pull that off!…..Legend……#FuryvsWilder

— Shaun Kavanagh (@ShaunKavanagh28) February 25, 2020

But fans can never forget how the ring walk of the legend Mike Tyson sent chills down everyone's spine as it was considered to be even more powerful than the entrance of Deontay Wilder. Mike Tyson created an intimidating aura around him as he walked towards the ring. Everyone around could feel the chills as the boxer went towards the ring.
Mike Tyson vs Michael Spinks was the best ring walk

— JOSH OMO (@josh__Omo) May 31, 2014

Tyson's walk was enough to create fear around him. He did not need a hyped-up entrance or anything else as his walk did the job. Mike Tyson is a 52-year-old ex-undisputed heavyweight champion. Moreover, Tyson was also one of the most feared boxers in his time. Tyson was known as the annihilator.  A clip of Mike went viral when British Boxing tweeted it. His simple entrance created an aura that sent body-chills. The man was a strong and feared boxer. He was a legend and there is a reason why he was known as an annihilator.
Greatest heavyweight ring walk – mike Tyson's – Tyson v spinks. #fightnight

— knighty (@___knighty) September 22, 2018

His body posture, style, looks, face, eyes, and everything else spread a sense of fear. The champion or as one would say, the 'Baddest Man on the Planet' just came out without a robe, socks, or an entrance theme song. His face was blank, and one could tell that he was strong and powerful just by his body language.


According to one of the commentators, Mike admitted this as well. He agreed to the fact that his entrance made him "feel like a warrior." Tyson also said that "he's ready to go to work." Joe took to Twitter and wrote how Tyson used to enter like he was going to war and not to a party or a dance. How Mike never bothered about songs, ring walks, or uniforms. That all he wanted was to just get in there and be able to fight — to be the steak and not just the sizzle.


Mike Tyson chucked the background music and the traditional ways of making an over-the-top entrance. He was one fighter who could simply intimidate everyone around with the way he walked.  British Boxing took to its Twitter account and wrote, "Mike Tyson ditches the traditional music and enters the ring to a chorus of noise, clanging chains, and sinister tones. In his 1988 one round annihilation of former champion Micheal Spinks. What are your favorite ring entrances?"


A Tweet was made by Shaun Kavanagh as well. The man tweeted that he will never forget Mike Tyson's ring walk and how intimidating it was back when he fought Michael Spinks. It was quite a contrast to Tyson, that Fury came to the ring with Patsy Cline!

The fans had a lot to say and many fans also had an argument that Deontay Wilder should leave the word 'Iron' as Mike Tyson's entry has made history. Many said that Tyson's ring walk was more intimidating than the entrance of Deontay Wilder.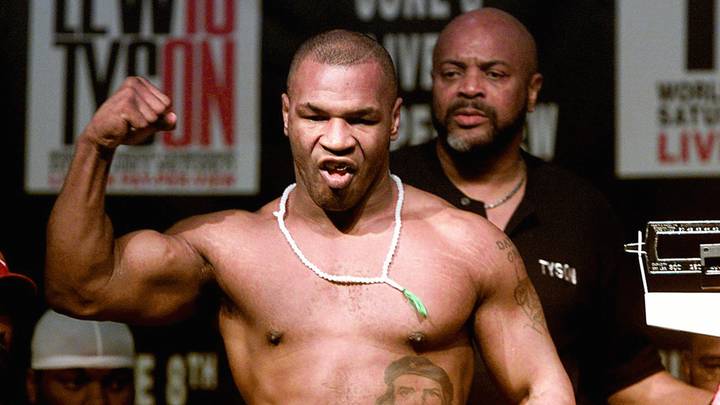 Cody L. Hudson said that he misses the days when Tyson would simply come to some DMX, in his hoodie. Hudson also said that he missed Tyson's performance in the ring. Mike also went viral when he gave a very heartfelt and emotional speech about having mixed feelings, and how he used to feel vulnerable after boxing. Mike also said that he was afraid of the fact that his old character might come back.
THROW BACK: Mike Tyson ditches the traditional music and enters the ring to a chorus of noise, clanging chains and sinster tones.. In his 1988 one round annihilation of former champion Micheal Spinks. What are you favourite ring entrances? 👇
🥊🥊#justforfun pic.twitter.com/ihz7o3dJ06

— British Boxing BBTV (@britishboxers) July 7, 2019