Everyone in the MMA world is well-acquainted with Dana White. The American businessman is the President of the World's largest mixed martial arts organization, Ultimate Fighting Championship. His excellent leadership has helped transform the UFC into a globally renowned multibillion-dollar company. Despite his achievements and presidential position, White is very outgoing. He is vocal about his opinions and employs social media sites such as Instagram and Twitter as a medium to express his point of view.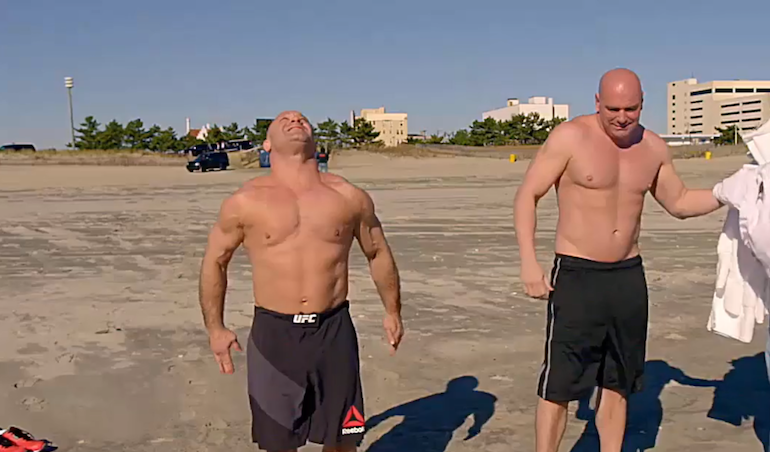 He does not shy away from any topic, especially when it comes to silencing opposers. In situations where other presidents would not get involved, UFC's current president has a habit of commenting on everything. He refuses to maintain an impartial and safe stance. Clearly, White never lacks conviction. This is an impressive trait that has helped him expand UFC into what it is today. Under his leadership, the Ultimate Fighting Championship has become the biggest global professional fighting body. Even though he has proven his worth time and again, speculators wonder whether White's bark is worse than his bite.
An old sparring video of the UFC president reveals that he is as scary as he projects. No wonder all the fighters are afraid of him. Even though he monitors and catalysts the growth of UFC from afar now, White trained in the ring a few times back in the day. In the video, a glimpse of him training to beat his opponent black and blue can be seen. The video was released when Dana White was preparing for a match of boxing against Tito Ortiz, a former UFC star. As Oritz was an employee, White was questioned about his decision to fight him. Even though the situation was quite rare, he denied suggesting the match.
Apparently, Ortiz was the first to suggest the combat while UFC president Dana White only accepted the offer. Even though he was the boss, he was well aware that Ortiz was better equipped to win the anticipated match. So, he worked hard. He participated in multiple training sessions each day and put emphasis on getting in shape. He soon lost weight and acquired great shape. Unfortunately, the boxing match never took place.
Many people surmise that the opponent got cold feet and backed out when he saw the boss's formidable form in the viral training video. White reminisced about his training days and said confidently, "He blinked…I absolutely would have won." There has always been a lot of tension between Ortiz and White. Even though White was Tito Ortiz's former manager when White progressed in his career they had to part ways. The feud began when the current president failed to manage Ortiz.
The detestation between the pair increased as more time passed. In one instance, Ortiz expressed his anger and stated ungratefully that White never did anything for him.  Of course, White was fired up by the remark and wanted to confront. The two mutually agreed to settle their dispute in the boxing ring. Currently signed to the Combate Americas promotion, American mixed martial artist Jacob Tito Ortiz was a trained fighter even back then.
So, if White wanted any chance at winning, he had to train. So, he used all of his resources and energy to train for months.  He was quite excited about the face-off but Ortiz never showed up. This led the fans to assume that the UFC fighter was scared to fight his boss and ran away. Ortiz, of course, denies this allegation. According to the actor, they canceled the fight due to disagreements and he never even trained for it.  You can watch White's brutal training round here: